Here, we review EssayEdge on different aspects to know if you can rely on it for editing services. Bear in mind that many companies can offer what you want, but you must be sure which one allows you to achieve your objectives. This article will assist you in comprehending some concealed aspects of the service. Besides, it provides the pros and cons to simplify your choices.
Pros
Experienced editors: EssayEdge boasts a team of experienced editors who have worked in various fields and have a strong understanding of the college application process. They can provide valuable feedback on your writing and help you improve your essays.
Wide range of services: EssayEdge offers a wide range of services, including editing, proofreading, and critique. They can also help you with scholarship essays, academic essays, and other types of writing.
Quick turnaround: EssayEdge offers a fast turnaround time, with editing and proofreading services completed within 48 hours. This can be especially helpful for students who need to submit their essays quickly.
Affordable pricing: EssayEdge offers competitive pricing for its services, making them accessible to students with varying budgets.
Cons
Limited revisions: While EssayEdge offers editing and proofreading services, they have a limit on the number of edits they offer. If you need extensive revisions, you may need to purchase additional services.
Lack of direct communication with editors: While you can provide instructions and feedback to your editor, you can contact them only via e-mail. This can make it a bit slower to get clarification on specific points or to ask questions.
No guarantee of acceptance: While EssayEdge can help you improve your essays, it cannot guarantee that you will be accepted into your desired program. Ultimately, the decision rests with the admissions committee.
EssayEdge Review 2023
Essay editing services are becoming increasingly and justifiably popular. The essay writing process can be daunting, and once it's complete, it can be tough to know where to start with editing. That's where essay editing services come in. They offer a professional touch that can take an essay from good to great. But here's the catch: editing services often exaggerate the true quality of their product or misrepresent their service. That is why this EssayEdge review is published – to share the experience and reveal the truth. Today we would like to talk about how good is EssayEdge.
Top Essay Editing Services
EssayEdge is a company that provides editing and proofreading services for admission essays, personal statements, and other forms of written communication. They have been in business for over two decades, and have a reputation for providing high-quality editing services to students and professionals globally. We aim to take a closer look at it and tell you why we choose this service for essay editing.
EssayEdge Review Of The Services Offered
EssayEdge is an online essay editing service that presents a range of services to help students and professionals improve their documents. The platform proposes three principal service levels: Proofreading, Standard Editing, and Premier Editing.
Proofreading
The proofreading service is the most basic level of editing suggested by EssayEdge. It includes a review of your spelling, grammar, punctuation, and syntax to eliminate errors and enhance clarity. The service starts at $69 for 600 words and goes up to $159 for 2400 words.
Standard Editing
The standard editing service includes a more comprehensive review of your document, including an assessment of your structure, tone, and coherence. It furthermore incorporates proofreading for grammar and punctuation errors. The service starts at $149 for 600 words and goes up to $379 for 2400 words.
Premier Editing
The premier editing service is the highest level of editing offered by EssayEdge. It includes a detailed review of the document, including an analysis of your argument, organization, and overall writing style. It alike includes proofreading for grammar and punctuation errors. The service starts at $379 for 600 words and goes up to $1,099 for 2400 words.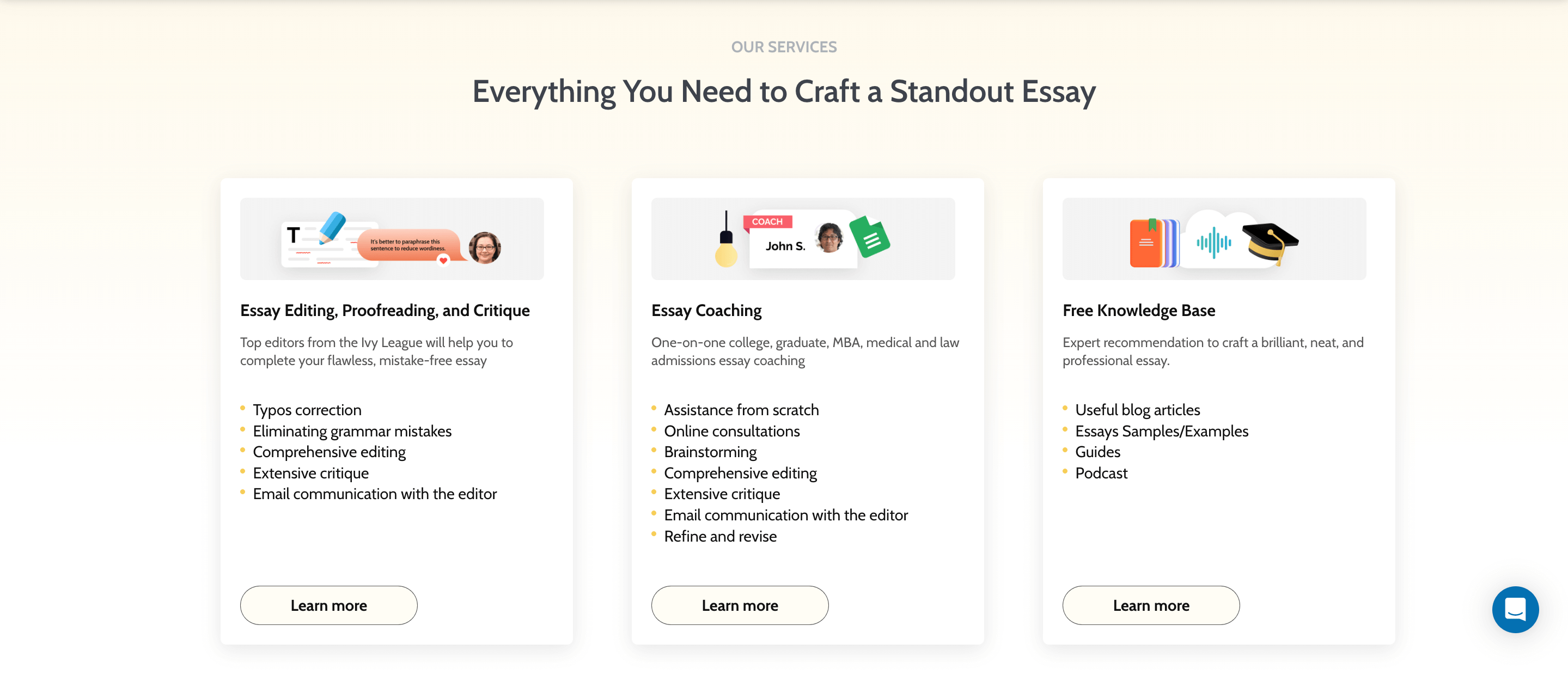 The all-in-one bundle is suitable for those who need an in-depth analysis of several documents immediately. The proposal allows you to submit more than three documents in one order. In addition to the benefits of other services, All-In-One contains a second reading with corrected essays.
EssayEdge Review: Account Login and Placing Order
EssayEdge's login and order process is straightforward and user-friendly. To place an order, customers merely need to create an account and follow the step-by-step instructions to submit their documents and provide any necessary information.
Some customers have reported experiencing technical difficulties during the login or order process. However, it's worth noting that these issues appear to be relatively rare and are typically resolved quickly with the help of EssayEdge's customer support team.
How Much Does EssayEdge Cost?
EssayEdge cost of services varies depending on the type of service you need, the length of your document, and the turnaround time you require.
For example, if you want a standard proofreading service for a 500-word essay with a 48-hour turnaround time, the cost would be $69. If you need more extensive editing, such as a critique or an analysis of your essay's structure, the price would be higher. EssayEdge accepts payment via credit cards, PayPal, and Alipay.
Refund Policy
If you are dissatisfied with the quality of the service you receive, the company provides an EssayEdge guarantee. They will work with you to address any issues with their service. If you are still displeased, they propose a full refund. However, to qualify for a refund, you must request it within 90 days of receiving your edited document.
It is important to note that EssayEdge's satisfaction warranty does not apply to any changes you make to your document after it has been edited by EssayEdge. Additionally, the EssayEdge guarantee does not apply to plagiarism or academic dishonesty issues. Refunds are also impossible if the customer fails to provide an essay upload or completed customer questionnaire.
EssayEdge Review: Contact and Support Experience
EssayEdge provides several ways to contact their customer support team, including phone, email, and live chat. It is a good sign as it shows they are easily accessible and responsive to customer inquiries.
Many customers have praised EssayEdge's customer support team for being helpful, knowledgeable, and responsive. If you do encounter any issues or have questions, their customer support team will likely be able to assist you.
EssayEdge Promo Code
EsseEdge is currently offering a 15% EssayEdge discount code on your first order. You can get an EssayEdge coupon code immediately after you enter your email on the site. The voucher can be used by yourself and also shared with friends who find it useful.
Can I Trust EssayEdge Review?
One of the main reasons why EssayEdge is a trusted service is because they employ a team of highly qualified editors. All EssayEdge editors have advanced degrees in their respective fields and years of experience in editing academic writing. It ensures that the editing is done by someone who has a deep understanding of the subject matter and can provide insightful feedback to improve the quality of the essay.
Another reason to trust EssayEdge is that they provide a satisfaction warrant. If you are unfulfilled with the quality of their editing, they will revise the essay for free or provide a full refund. It shows that they stand behind their services and are committed to ensuring their customers are happy with the result.
Besides, EssayEdge provides valuable resources and tools to help students and professionals enhance their writing skills. They have a blog that presents tips and advice on writing, along with a library of sample EssayEdge essays that can serve as a source of inspiration and guidance.
EssayEdge Testimonials in Social Media
EssayEdge has a lot of social reviews, with some customers being delighted with their services and only a few expressing dissatisfaction.
Trustpilot, a popular review platform, puts EssayEdge in a pretty solid place, rating EssayEdge with 4.6 out of 5 stars based on over 1,200 reviews. Many customers have praised the quality of the editing and proofreading services, noting that they received helpful feedback and constructive criticism. Other customers have praised the customer service, stating they received prompt and helpful responses to their inquiries.
On Sitejabber, another review platform, EssayEdge's rating is 4.9 out of 5 stars based on over 400 reviews. In general, EssayEdge receives only positive feedback from its customers, which sounds something like this:
«I wasn't sure my cover letter was good and decided to play safe. Therefore, I hired an editor on EssayEdge. It turned out that my paper needed many corrections. I'm pleased with the cooperation: we worked together with my editor, and this experience is priceless for me. She gave comments and proposed corrections, and we did it many times to achieve the perfect result. Individually, I want to thank customer support: they answered my request quickly enough and processed my order fast. It's wonderful how EssayEdge manages to juggle quick delivery and high-quality work.»
EssayEdge Reddit Reviews
Even Reddit, an open platform with totally different reviews, speaks positively about EssayEdge services. Most commonly you will see comments like:
«I am a college student, and I have never had any problems with my work. The prices are very affordable and the quality of the essays is always great.»
EssayEdge Safety
EssayEdge is a reliable and safe company to use for editing and proofreading services. They take the privacy and security of their customers' personal and academic information seriously and have implemented several measures to protect it.
They use SSL encryption to ensure that all communication between their website and their customers' browsers is secure. Thus, any personal or financial information provided by customers is encrypted and cannot be intercepted by third parties.
Furthermore, EssayEdge has a strict privacy policy that outlines how they collect, use, and protect their customers' personal information. They only collect the information necessary to provide their services, and they do not share this information with any third parties without the customer's consent.
How Fast Can I Get My Essay Done by EssayEdge?
Essay Edge Standard Service permits a turnaround time of up to 48 hours, while their Rush Service guarantees a 24-hour turnaround time. They also present a Same-Day Service for those who need their essay edited within 12 hours.
It's necessary to note that the turnaround time may vary depending on the length and complexity of the essay, as well as the current volume of editing requests. However, EssayEdge strives to provide prompt and efficient service to its customers and will do its best to meet your editing needs promptly.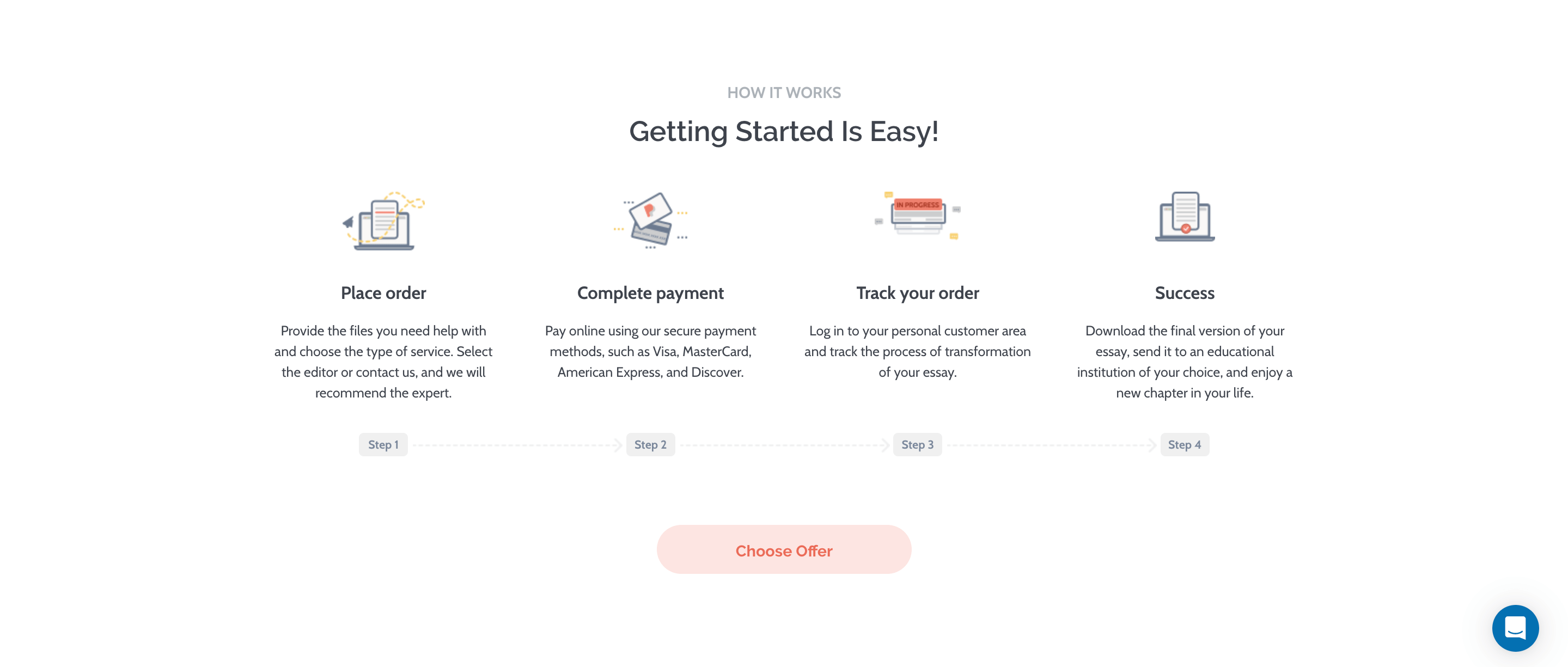 Our Opinion
EssayEdge essay editing services offer many benefits to students and professionals alike. In our opinion, it is a good chance to improve the quality of your text. We have found several reasons why you might choose an essay editing service:
Improved Writing Quality: Essay editing services have professional editors trained to identify and correct common writing errors, such as grammar and spelling mistakes, awkward phrasing, and unclear sentences. By using an editing service, you can be sure your document will be polished, concise, and error-free.
Better Grades: When you submit a well-edited essay, you increase your chances of receiving a higher grade. A professionally edited essay will be more persuasive, easier to read, and free of errors that can distract from your argument.
Time-Saving: Editing your work can be time-consuming and frustrating. By using an editing service, you can save time and focus on other essential aspects of your work, such as research or brainstorming.
Professional Feedback: Professional editors provide valuable feedback on your document, which can help you improve your writing skills and avoid common mistakes in the future. This feedback can also help you better understand the expectations of your audience, whether it's a professor, employer, or client.
Customized Service: Essay editing services can be tailored to your specific needs. You can select the level of editing you need, from basic proofreading to more in-depth editing, depending on your goals and budget.
EssayEdge Conclusion
In conclusion, EssayEdge is one of the best editing services that can help students and professionals enhance their documents. Many customers have praised the quality of their services and the level of customer support they received. EssayEdge offers a range of editing and proofreading services, including their all-in-one bundle, which combines multiple services into a single package at a discounted price. Overall, if you are looking for help with your writing, EssayEdge is a service worth considering, and their commitment to customer satisfaction and quality is evident in the positive feedback they have received from many satisfied customers.
FAQ
What are EssayEdge prices?
The Founder of TopEssayEditors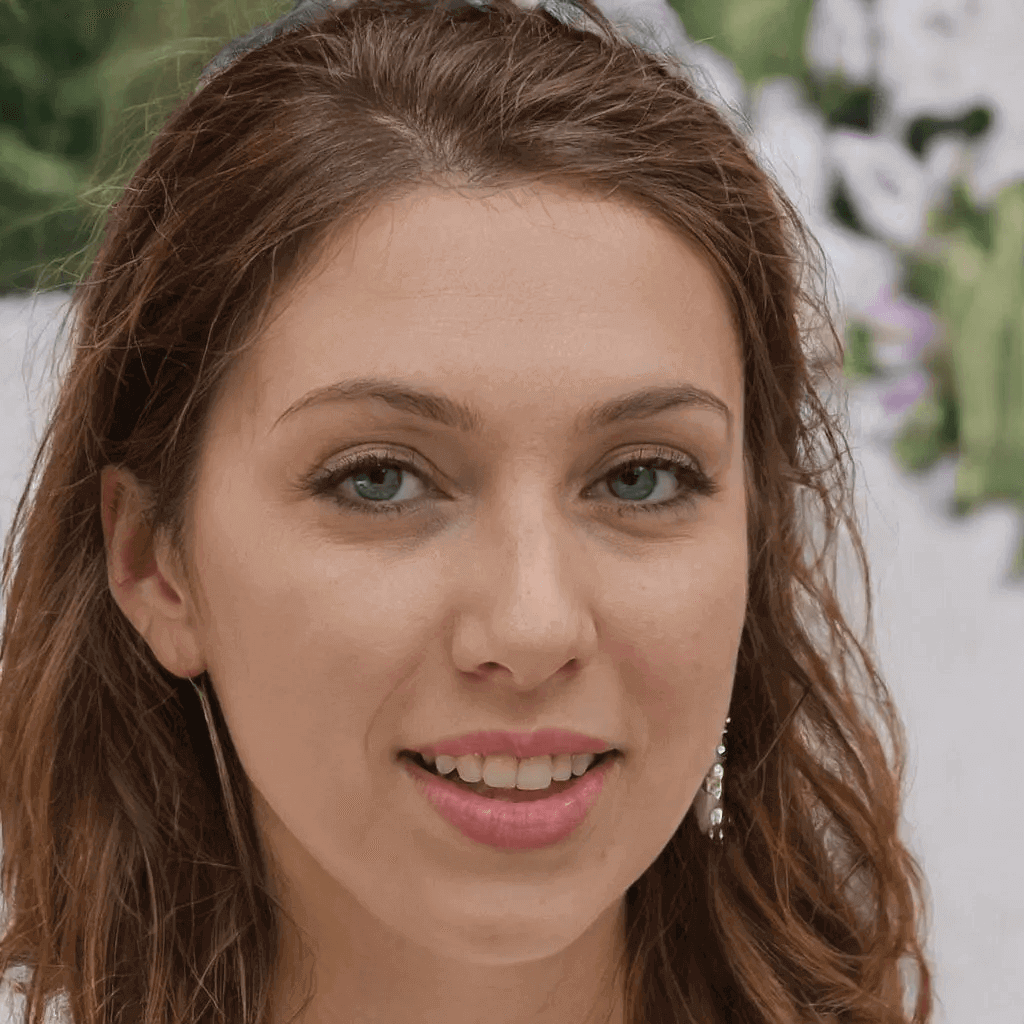 Evelyn Wordsworth
I'm a recent graduate with a passion for helping fellow students succeed in their academic endeavors. During my time at university, I encountered the challenges of writing numerous essays, research papers, and personal statements for scholarships and internships. This experience motivated me to explore and test a variety of editing and proofreading services to polish my work and improve my chances of success. I understand the unique challenges and pressures that students face. Therefore, I gathered a team of like-minded people to give recommendations of trusted services for other students navigating the competitive world of academia.